NAB Show – Las Vegas

nabshow.com/2022/

Date: April 23-25, 2022
Location: Las Vegas Convention Center

From pivot to reinvention to present, innovation is driving the future of our industry at an accelerated pace. Fast. Furious. Constant. Here is where you'll see stealth at work and possibility at play. And — it's an entirely reimagined experience. Now more intuitive than ever, you can pick your path among three carefully curated collections of exhibits and education illustrating the entire content lifecycle. We've got everything you could possibly imagine and what's well beyond the periphery of possible waiting.

Each year, thousands of content professionals from all corners of the media, entertainment and technology ecosystem go to NAB Show. It's designed for those striving to drive listeners and engage viewers in larger numbers for greater reach. And it's imagined for those seeking to create uncommon audio and visual experiences. No matter where you fall on the content continuum—from creation to distribution, management to monetization—this is where you'll find a renewed path to clarity and confidence that takes your work in bold new directions.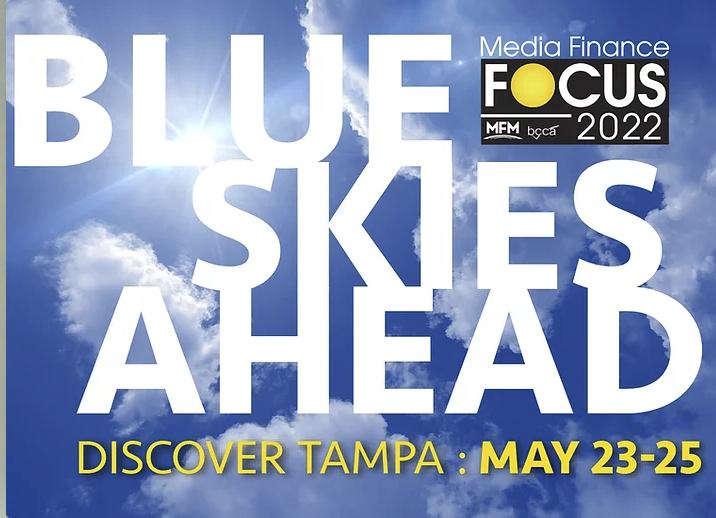 Media Finance Focus 2022

www.mediafinancefocus.org/

Date: May 23-25, 2022
Location: JW Marriott on Water Street, Tampa, FL

Join us as MFM & BCCA deliver dozens of cutting-edge sessions, distinguished keynote speakers, interactive industry roundtables, networking events, an exhibit hall showcasing the latest industry products and services, and so much more. Learn everything you need to know to stay ahead in the rapidly changing world of media finance, connect with industry peers, and set yourself up for success.